We're at Your Service
Brian's door-to-door Dry Cleaners offers Free pickup & Delivery. Where in business for over 38 years we service shirts laundered / alterations / leather & suede / weddings gowns / storage / rugs / drapes / household items. we deliver quality & convenience

Think all dry cleaners are the same? Think again! We are experts at our trade and pride ourselves in using only the highest quality cleaning solvents, employing the most skilled technicians, and spending significantly more time on each garment than the competition. Whether you are already one of our loyal customers or you are visiting us for the first time, we appreciate your interest and invite you to learn more about our services and what sets us apart.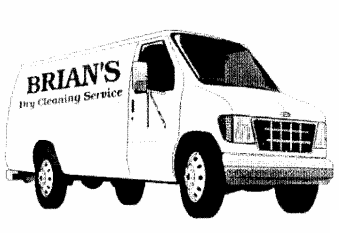 Superior Quality & Service!
While we are cleaning your items, we'll carefully check to ensure all of your garments are perfectly clean and pressed. If we spot anything that needs a quick mend, we'll take care of it. Our in-house seamstress is great at repairing little rips and tears, re-securing hemlines and replacing buttons. We'll also check that all of your zippers are working properly, and that any facings and trims are fixed in time for your pick up. We truly provide a complete service.

Specializing in: Pants, Shirts, Ties, Jackets, Coats, Skirts and Dresses of any kind. Men's, Women's and Children's clothes. We also do Table Linens, Wedding Gowns, Bedding and much more.
Hours of Operation:
 
Monday - Tuesday: 8:00am - 8:00pm

Wednesday: 9:00am - 6:00pm

Thursday - Friday: 8:00am - 8:00pm

Saturday - Sunday: Closed
Read Our Reviews
 
"Fast and reliable service and superior quality. All of my clothes come out looking and feeling brand new. They are also great at removing stubborn stains."
★★★★★
- Christine L.
"They are a great neighborhood dry cleaners and have really helped me out in some jams. They have done everything for me, bridesmaid dress alteration, jean hemming and sewing up holes."
★★★★★
- Bob L.
"My clothes were nice and clean, dress shirts nicely pressed and hanged, and I couldn't have been happier with the whole experience. From now on, this will be the only dry cleaners I will use in my area.
"
★★★★★
- Josh A.